Assembling and packing the inhalers
Reliable packaging process thanks to storage capacity
Packaging ready for dispatch
Cartoning machine can also process top-load blanks
Data archiving with LMS
Reliable and safe
Schubert-Pharma supplied a pharmaceutical manufacturer with a safe, reliable line for assembling and packing inhalers into flowpacks.
The strictest demands on reliability and safety are standard when it comes to the packaging of pharmaceutical devices. In this case, too, Schubert-Pharma was asked to deliver a reliable, safe packaging line that also makes it possible to track the inhalers.
Ready for anything
With the packaging line supplied by Schubert-Pharma, the manufacturer can store products from production for up to 10 minutes, as and when necessary. This guarantees a reliable, safe assembly and packaging process.
As well as the integrated line management system for data generation and archiving to order, Schubert-Pharma developed flexible end packaging to allow changeovers to other formats to be carried out easily at a later point. If the leaflet integrated into the pre-glued folding carton is not used in the future, then the cartoning machine can also process top-load blanks.
The flexible end packaging makes it possible to change over to other formats at a later point.
Technical Details
Airtight packing of inhalers into flowpacks
The complete line takes the assembled inhalers and packages them ready for dispatch. A sub-machine with F2 robots serves as storage for filled and empty product carriers and ensures a continuous assembly and packaging process. Storage capacity is approximately 10 minutes at an output of 80 inhalers per minute. Labelling systems then print and apply round labels on both sides of the inhalers, with a level of precision measured down to the millimetre. The data on the labels is verified by a camera after application.
An additional sub-machine with F2 robots fills the product chain of the flow-wrapping machine and transports the unloaded product carriers back into the cassette buffer. The film, which is vapour-coated with aluminium, is labelled before the actual flow-wrapping process in order to produce a crease-free result. The inhalers are then packed into the airtight flowpack foil.
Primary cartoning works with pre-glued folding cartons. These are taken from the magazine, opened and presented to the robot, which slides the products, along with a leaflet, into an erected side-load folding carton. The folding cartons are closed, labelled on the corner and then palletised.
Up to 80 inhalers per minute
Storage capacity over 10 minutes
Reliable process
Line management system
An F2 robot guarantees a continuous process for the upstream assembly Technology.
The round labels are positioned to the millimetre.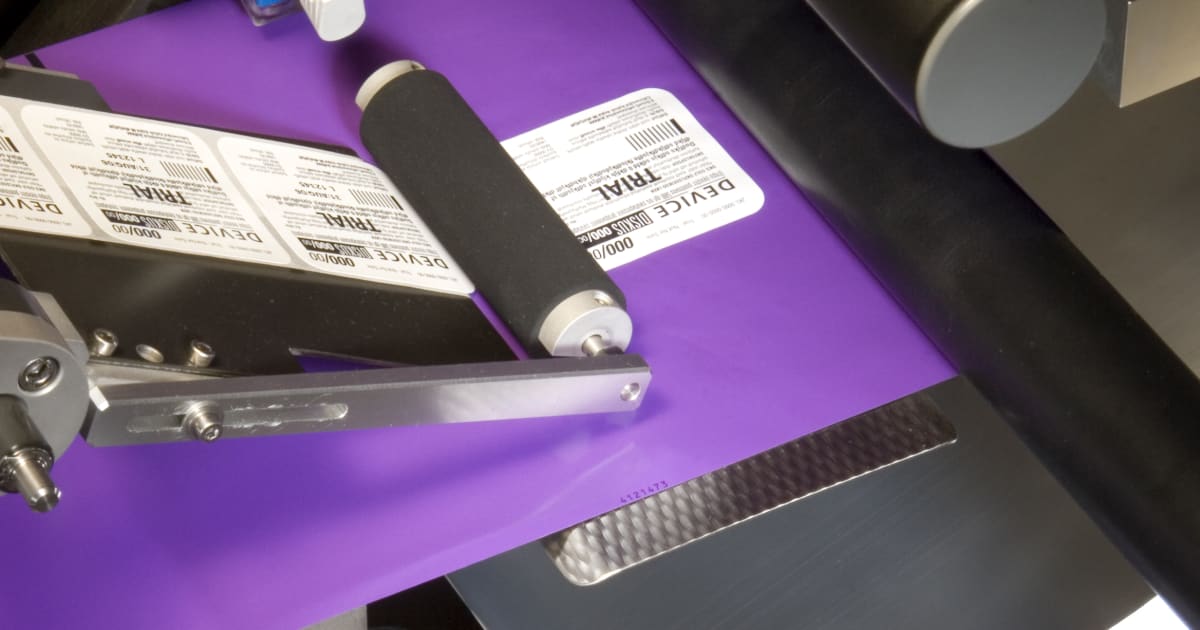 Applying labels before the flow-packing process achieves a crease-free result.
The inhalers are placed, together with a leaflet, inside an erected side-load folding carton.
The shipping cartons are closed, labelled on the corner and then palletised.